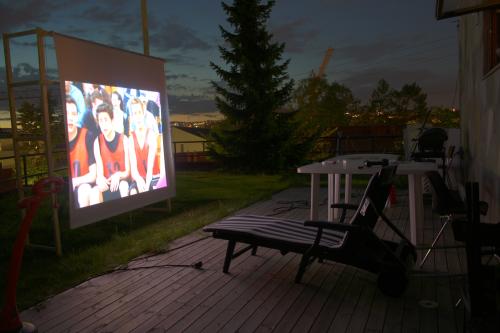 2006-08-08
Yesterday I got the parts I would need to rig up a screen outside and today it was time to test if it worked. It actually did! Sat outside watching some tv-series just past 22:30.

Had an interesting discussion earlier today about happiness. What makes people happy? Does money make you happy? The obvious answer according to an article I read is that (more) money doesn't make you happy, rather it is safety and social networks that is important (and you shouldn't mind paying a lot of taxes to help other people!). I disagreed firmly with the article because I looked at it the other way around. What can you take away from me that will reduce my happiness the most? The answer is: money. Without money you don't have any food, a place to live and it's hard to do something together with your friends if you are flat out broke. This also checks out according to Maslow's hierarchy of needs. The physiological needs are more important than Safety needs and friendships.

That's why I answered that money is more important to me than friendships. Because I understood the question.

Yeah, I'm materialistic.

About this project:
Some people fear the dreaded 30. The three oh. When you are 30 you should be a grown-up; have a job, a partner, a child. Many of us are not. I'm 29 and pushing thirty. I will be 30 on August 18th 2006.

They call it the thirty year crisis. The biologic clock. Time is ticking! Live in denial, celebrate 29 for the second time, go away on your birthday and hope it will just silently pass.

I wanted to do a photo project. I wanted to have something I could look back on and think "ah, those were the days". Perhaps other people could enjoy it as well. So I started this project in May 2006. Approximately 100 days away from my 30th birthday. Will I have a thirty year crisis? Will I find a new partner before then? Perhaps I'll just go away and hide. Come along for the ride, see how I feel.

For the next 100 days I'll be uploading an image and writing about what I do, who I meet and how I feel.