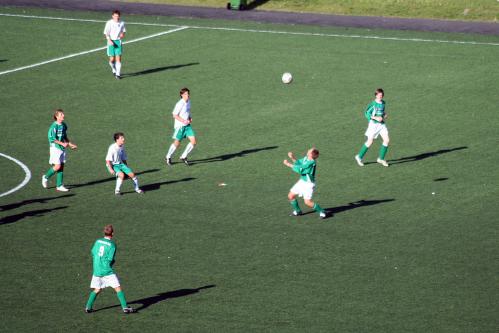 2006-08-01
Back at work today, having a hard time getting back in the rythm but I actually managed to do what I set out to do today.

After work me and my mom went to shop for a present for my dad (well, stepdad, but he feels like a dad for me). His birthday is in a few days but my parents are leaving on a vacation so we thought we could give him the present early.

Speaking of early presents, I told my mom I wanted a subscription to Pondus, a norwegian cartoon magazine, for my birthday. Even though my birthday is still 17 days away they ordered today because I got a confirmation email from the publisher. Whoopsie, tiny mistake there, but I love them even more.

Norway Cup is on it's way here in Oslo as well and the town is filling up with teenagers from all around the world playing fotball. It has been many years since I went to see a game, mainly because even the oldest girls are too young for me now. Maybe they have some coaches though..
About this project:
Some people fear the dreaded 30. The three oh. When you are 30 you should be a grown-up; have a job, a partner, a child. Many of us are not. I'm 29 and pushing thirty. I will be 30 on August 18th 2006.

They call it the thirty year crisis. The biologic clock. Time is ticking! Live in denial, celebrate 29 for the second time, go away on your birthday and hope it will just silently pass.

I wanted to do a photo project. I wanted to have something I could look back on and think "ah, those were the days". Perhaps other people could enjoy it as well. So I started this project in May 2006. Approximately 100 days away from my 30th birthday. Will I have a thirty year crisis? Will I find a new partner before then? Perhaps I'll just go away and hide. Come along for the ride, see how I feel.

For the next 100 days I'll be uploading an image and writing about what I do, who I meet and how I feel.