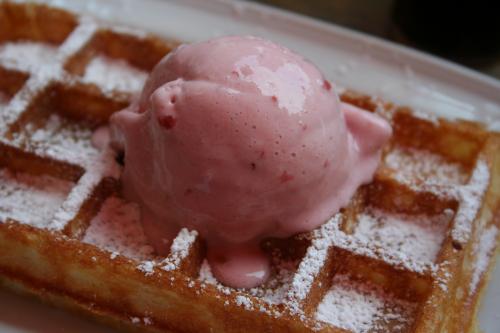 2006-07-25
Today will be a long day so we got up early, had breakfast at the hotel, checked out, put our luggage in the car and walked down to Grand Place to absorb some Belgian culture. Had waffles with icecream, saw Manneken Pis and bought some souvenirs. Also, I bought a hat.

We had planned to meet Eva for dinner in Mannheim later tonight so we hurried down to Luxembourg to see the beautiful scenery. It was the warmest part of our trip so far, with my car's temperature meter reading 42 degrees. My hot tip for a roadtrip: have a car with aircondition.

Traffic out of Luxembourg was slow so we were late but we met up with Eva in Mannheim for some mexican dinner. Afterwards we went out at a bar called Stars in a tower in downtown Mannheim. Great view!

Decided I'd rather drive some extra now rather than drive all of tomorrow so we went for about an hour north until we reached a hotel in Frankfurt. Best room so far, it was a suite with a large bedroom.
About this project:
Some people fear the dreaded 30. The three oh. When you are 30 you should be a grown-up; have a job, a partner, a child. Many of us are not. I'm 29 and pushing thirty. I will be 30 on August 18th 2006.

They call it the thirty year crisis. The biologic clock. Time is ticking! Live in denial, celebrate 29 for the second time, go away on your birthday and hope it will just silently pass.

I wanted to do a photo project. I wanted to have something I could look back on and think "ah, those were the days". Perhaps other people could enjoy it as well. So I started this project in May 2006. Approximately 100 days away from my 30th birthday. Will I have a thirty year crisis? Will I find a new partner before then? Perhaps I'll just go away and hide. Come along for the ride, see how I feel.

For the next 100 days I'll be uploading an image and writing about what I do, who I meet and how I feel.