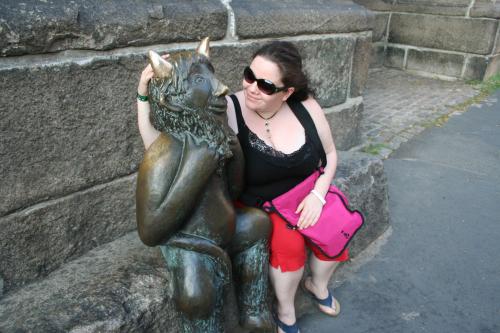 2006-07-23
Went by the Hard Rock Cafe before checking out of the hotel. Became a member of the Hard Rock Cafe vip-club so now we get discounts on stuff we buy/eat!

Decided to drive down to Rødby to take the ferry over to Puttgarden in Germany. On the way Eva, a friend in Germany, sent me a message saying she had just returned from her vacation in Shanghai. I called her and said I was on my way to Germany and that we should meet. We made some loose plans about meeting tuesday.

Had dinner in Lübeck but decided we were going to drive to Netherlands today so we hit the autobahn at full speed and ended up at a Golden Tulip Inn just outside Groningen in northeastern Netherlands just past midnight. Great room at a low price so we were happy.
About this project:
Some people fear the dreaded 30. The three oh. When you are 30 you should be a grown-up; have a job, a partner, a child. Many of us are not. I'm 29 and pushing thirty. I will be 30 on August 18th 2006.

They call it the thirty year crisis. The biologic clock. Time is ticking! Live in denial, celebrate 29 for the second time, go away on your birthday and hope it will just silently pass.

I wanted to do a photo project. I wanted to have something I could look back on and think "ah, those were the days". Perhaps other people could enjoy it as well. So I started this project in May 2006. Approximately 100 days away from my 30th birthday. Will I have a thirty year crisis? Will I find a new partner before then? Perhaps I'll just go away and hide. Come along for the ride, see how I feel.

For the next 100 days I'll be uploading an image and writing about what I do, who I meet and how I feel.