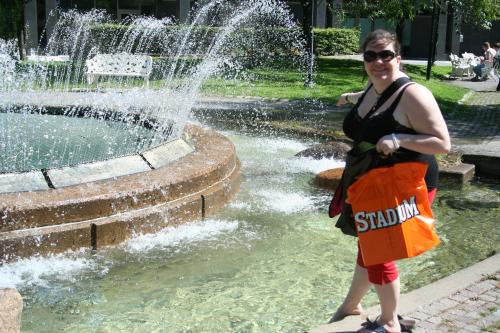 2006-07-22
So the concert last night was really great. We had ordered breakfast served in our room and I'm glad we did. Checked out of the hotel to go shopping in Stockholm and found myself 2 pair of shoes and some sunglasses. Snappy!

After a few hours we went back to the car and drove off towards Copenhagen in Denmark. Met a truckdriver on the way who said it was 38'C in Rotterdam so we should be aware of the heat.

Took the bridge over from Malmø to Copenhagen istead of taking the ferry further north. Almost ran down a bicyclist downtown before finding a Scandic hotel - which was full. They recommended we try the other Scandic just a few minutes away, in the more shadier parts of downtown. Ended up at the other Scandic which has just opened 6 days ago. Great new rooms!

Anne Karen haven't seen much of Copenhagen so I took her for a walk in the main shopping area, Strøget. Everything except a few clubs were closed but lots of people anyway.
About this project:
Some people fear the dreaded 30. The three oh. When you are 30 you should be a grown-up; have a job, a partner, a child. Many of us are not. I'm 29 and pushing thirty. I will be 30 on August 18th 2006.

They call it the thirty year crisis. The biologic clock. Time is ticking! Live in denial, celebrate 29 for the second time, go away on your birthday and hope it will just silently pass.

I wanted to do a photo project. I wanted to have something I could look back on and think "ah, those were the days". Perhaps other people could enjoy it as well. So I started this project in May 2006. Approximately 100 days away from my 30th birthday. Will I have a thirty year crisis? Will I find a new partner before then? Perhaps I'll just go away and hide. Come along for the ride, see how I feel.

For the next 100 days I'll be uploading an image and writing about what I do, who I meet and how I feel.