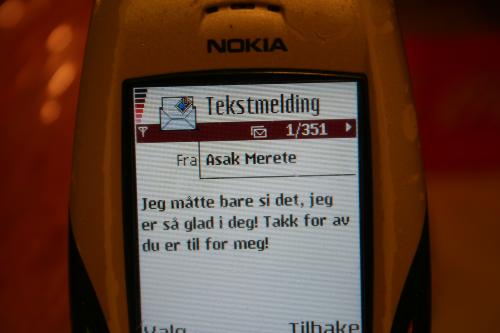 2006-07-17
Sometimes when life is hard and you just want to disconnect from it all for a few hours a friend will cheer you up. That friend is Merete. Out of nowhere she sent me a message about treasuring our friendship. It really made my day today.

I shut off my phone and we went for a walk around Nøklevann, took us 2.5 hours. Just the two of us, two friends in the forest, like Pooh and Piglet. That has always been me and Merete since the day we first met over 10 years ago. I love Merete.
About this project:
Some people fear the dreaded 30. The three oh. When you are 30 you should be a grown-up; have a job, a partner, a child. Many of us are not. I'm 29 and pushing thirty. I will be 30 on August 18th 2006.

They call it the thirty year crisis. The biologic clock. Time is ticking! Live in denial, celebrate 29 for the second time, go away on your birthday and hope it will just silently pass.

I wanted to do a photo project. I wanted to have something I could look back on and think "ah, those were the days". Perhaps other people could enjoy it as well. So I started this project in May 2006. Approximately 100 days away from my 30th birthday. Will I have a thirty year crisis? Will I find a new partner before then? Perhaps I'll just go away and hide. Come along for the ride, see how I feel.

For the next 100 days I'll be uploading an image and writing about what I do, who I meet and how I feel.