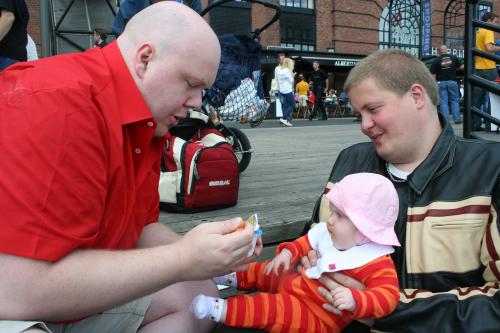 2006-06-24
This day started out with some excitement. After having a shower and drying off I heard some noise outside my bedroom window. Some drunk guy was standing outside throwing my garden furniture around and over a small ledge. I wrapped myself up in a towel and ran outside yelling at him. He said something about not knowing it was my furniture. I wish I had put on some more clothes so I could kick his ass out of there. Oh well, he ran away and I saw a police car drove by a few minutes later. I guess someone complained about the noise.

Spent a few hours downtown with Ingunn, her daughter Helene and Dag. Ingunn played with my camera while me and Dag tried to feed Helene. She was a little sceptical.

Today is also Mari's birthday so I went out to her and Kristian to have some food and cake in the evening. I was a bit tired but still had some fun.
About this project:
Some people fear the dreaded 30. The three oh. When you are 30 you should be a grown-up; have a job, a partner, a child. Many of us are not. I'm 29 and pushing thirty. I will be 30 on August 18th 2006.

They call it the thirty year crisis. The biologic clock. Time is ticking! Live in denial, celebrate 29 for the second time, go away on your birthday and hope it will just silently pass.

I wanted to do a photo project. I wanted to have something I could look back on and think "ah, those were the days". Perhaps other people could enjoy it as well. So I started this project in May 2006. Approximately 100 days away from my 30th birthday. Will I have a thirty year crisis? Will I find a new partner before then? Perhaps I'll just go away and hide. Come along for the ride, see how I feel.

For the next 100 days I'll be uploading an image and writing about what I do, who I meet and how I feel.