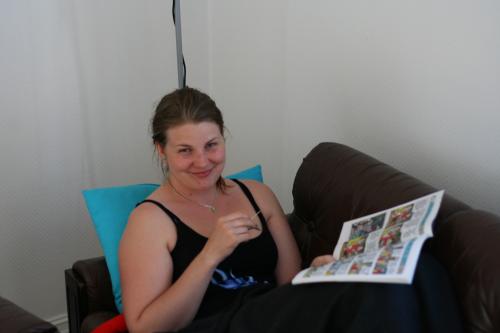 2006-06-17
I went to bed really late last night but woke up at 8 as someone was really pounding on my doorbell. I don't really get angry that often but one of the few things I care about is getting a good nights sleep. So I put on some pants and a shirt and ran outside, pushing the door open and yelled "what the hell are you doing?" to two heavy metal guys who really got caught by surprise. They were supposed to visit my neighbour but her doorbell wasn't working. "Well then give her a phonecall then!" I said and slammed the door shut. Not that I mind being a friendly neighbour but it was early and I didn't feel like playing doorman today. And ofcourse I couldn't catch any more sleep because of my agitated mood.

REALLY late breakfast today as I went to see Lars, Cecilie and their new baby before shopping. We sat around talking and suddenly a few hours had past.

Barbro came for a visit in the evening and we sat through 4 episodes of Joey while eating dinner.
About this project:
Some people fear the dreaded 30. The three oh. When you are 30 you should be a grown-up; have a job, a partner, a child. Many of us are not. I'm 29 and pushing thirty. I will be 30 on August 18th 2006.

They call it the thirty year crisis. The biologic clock. Time is ticking! Live in denial, celebrate 29 for the second time, go away on your birthday and hope it will just silently pass.

I wanted to do a photo project. I wanted to have something I could look back on and think "ah, those were the days". Perhaps other people could enjoy it as well. So I started this project in May 2006. Approximately 100 days away from my 30th birthday. Will I have a thirty year crisis? Will I find a new partner before then? Perhaps I'll just go away and hide. Come along for the ride, see how I feel.

For the next 100 days I'll be uploading an image and writing about what I do, who I meet and how I feel.