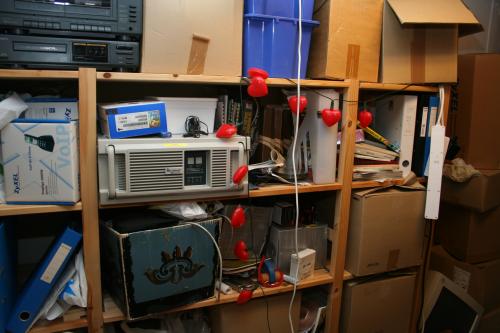 2006-06-12
I'm always surprised when I find out how much crap I keep around. I spent a few hours today throwing out old junk and cleaning up.

What doesn't surprise me though is that tv-series can make me cry. I watched the first episode of the new season of The 4400 today and I cried at the end. Not as much as when John Ritter died in 8 simple rules, where he actually died in real life and they wrote it into the show, but still - I cried.

It feels good to cry once in a while.
About this project:
Some people fear the dreaded 30. The three oh. When you are 30 you should be a grown-up; have a job, a partner, a child. Many of us are not. I'm 29 and pushing thirty. I will be 30 on August 18th 2006.

They call it the thirty year crisis. The biologic clock. Time is ticking! Live in denial, celebrate 29 for the second time, go away on your birthday and hope it will just silently pass.

I wanted to do a photo project. I wanted to have something I could look back on and think "ah, those were the days". Perhaps other people could enjoy it as well. So I started this project in May 2006. Approximately 100 days away from my 30th birthday. Will I have a thirty year crisis? Will I find a new partner before then? Perhaps I'll just go away and hide. Come along for the ride, see how I feel.

For the next 100 days I'll be uploading an image and writing about what I do, who I meet and how I feel.