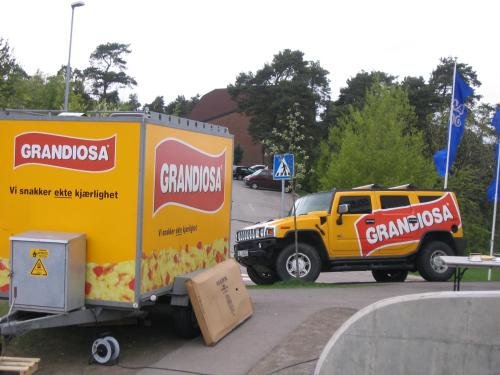 2006-05-24
The sun peeked through the rain today and made my day a little better. On my way home I saw some promotion for grandiosa, a norwegian pizza. They had just ended though so no free pizza for me. Took a trip to IKEA with Marielle, Marius and Pernille in the evening.

It's been 2 weeks now and this is just as hard as I imagined it would be. I'm glad I don't write a daily column in a newspaper.
About this project:
Some people fear the dreaded 30. The three oh. When you are 30 you should be a grown-up; have a job, a partner, a child. Many of us are not. I'm 29 and pushing thirty. I will be 30 on August 18th 2006.

They call it the thirty year crisis. The biologic clock. Time is ticking! Live in denial, celebrate 29 for the second time, go away on your birthday and hope it will just silently pass.

I wanted to do a photo project. I wanted to have something I could look back on and think "ah, those were the days". Perhaps other people could enjoy it as well. So I started this project in May 2006. Approximately 100 days away from my 30th birthday. Will I have a thirty year crisis? Will I find a new partner before then? Perhaps I'll just go away and hide. Come along for the ride, see how I feel.

For the next 100 days I'll be uploading an image and writing about what I do, who I meet and how I feel.