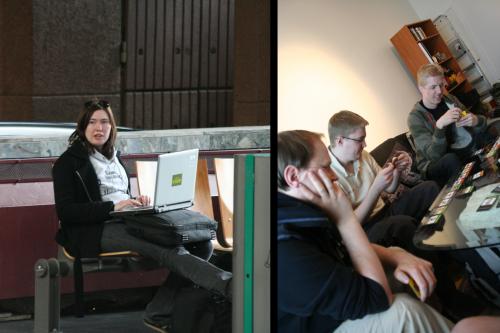 2006-05-13
Ingrid sent me a message telling me she was stuck for an hour at the central train station. There's something about Ingrid that makes me happy so I went down there to give her a hug. I've known her since easter 2005 but we've only met 2 or 3 times since then. After seeing her today I think we should meet more often.

Rune had invited me to play RoboRally with Marius and Řyvind so I went there for the afternoon. Rune and Řyvind have both turned 30 with no apparent crisis. Marius is 1 week after me.

In the evening I got a visit from Marielle and Trond to watch Mr. Deeds starring Adam Sandler. Near the end of the movie Hilde and André stopped by as well to say hello.

Couldn't quite decide on a picture today so I stitched two together. Perhaps I'll modify the script to allow more pictures on a single day.
About this project:
Some people fear the dreaded 30. The three oh. When you are 30 you should be a grown-up; have a job, a partner, a child. Many of us are not. I'm 29 and pushing thirty. I will be 30 on August 18th 2006.

They call it the thirty year crisis. The biologic clock. Time is ticking! Live in denial, celebrate 29 for the second time, go away on your birthday and hope it will just silently pass.

I wanted to do a photo project. I wanted to have something I could look back on and think "ah, those were the days". Perhaps other people could enjoy it as well. So I started this project in May 2006. Approximately 100 days away from my 30th birthday. Will I have a thirty year crisis? Will I find a new partner before then? Perhaps I'll just go away and hide. Come along for the ride, see how I feel.

For the next 100 days I'll be uploading an image and writing about what I do, who I meet and how I feel.